Remodeling Service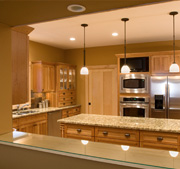 Design your whole space with our remodeling service, and your room receives the same attention to detail in design, craftsmanship, and customer service we give our custom woodworks, only on a larger scale. Williams de la Roca is fully bonded and insured to take on your complete remodeling project.
Williams de la Roca often serves as consultant and contractor to architects, interior designers, and individual homeowners, offering a professional remodeling service guided by the firm's lead designer and builder. Over 20 years of experience in the home building and renovation fields, plus our background in architecture and interior design professionals, lets Williams de la Roca build off of an existing design or plan the design from the start.
Remodeling service available for redesigns and renovations of:
Kitchens
Bathrooms
Home Offices
Basements
Living Rooms
Bedrooms
Master Suites
Guest Rooms
Sunrooms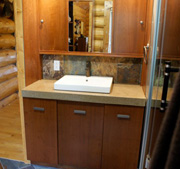 Concrete Countertops
Concrete countertops are a Williams de la Roca specialty and an example of our commitment to giving customers what they want most—a custom design crafted of durable material.
Concrete countertops are a cost efficient, customizable alternative to natural stone. Like granite and marble, concrete is considered a sustainable product due to its staying power. After your counter is poured and set, it could last for the life of your home, and its color, shape and style flexibility allows for complete customization to suit your existing kitchen or bath.